Gaming is considered one of the most popular hobbies with millions of people across the globe engaging in it. Dedicated fans spend thousands on gaming consoles and equipment to engage in the activity on their own and with their fans.
While many gamers play games for fun, some engage in the hobby competitively in tournaments and competitions against other players. As an organizer, you'd want your gaming tournament to succeed by getting a large audience and participants. This can be done by creating a robust marketing strategy for your upcoming gaming tournament. Here is how you can do so.
Understand The Market
Obviously, to hold a gaming tournament, you need to have some games to play in the first place. This will dictate the kinds of players and crowds you will attract. You must first decide the kind of games you want players to compete in and then target the audience regarding the genre.
First Person Shooter games like Call of Duty, Real-Time Strategy games like Starcraft II, Fighting games such as Tekken, and Multiplayer Online Battle Arena games such as Defense Of The Ancients (DOTA) are some of the famous games from each genre that you can focus on. This will allow you to narrow down the established esports teams that you can reach to compete in the tournament and also collaborate in future events.
Sponsor Posts In Gaming Publications
If your tournament is on the bigger side then you may want to consider sponsor posts on gaming-related websites. Many gaming-related websites will be happy to do sponsored posts for your event. Doing so will help both the publications and your event as both your audiences will be introduced to the other.
This is especially good to market gaming tournaments that are on the larger side. But, it will also allow you to reach audiences outside of your geographical range. This is not as effective for smaller tournaments which perform better when advertised on local media outlets.
Social Media Marketing
When it comes to digital marketing and promotion, social media is your friend. It is the most accessible and cheapest medium available that you can access at your fingertips with a wide reach. Choose your main social media platforms and focus on them. Instagram and Twitter are more face-paced and can reach a wide audience whereas Facebook will let you target a more intimate group.
Once you have your preferred social media platforms decided. It is time to put up content. Audiences react more positively to visual content and are more likely to engage than text posts on social media. To this effect, you can create some game posters to inform the audience regarding the games you are offering for the competition, the prizes, the venue and dates, and any other information you would want to offer.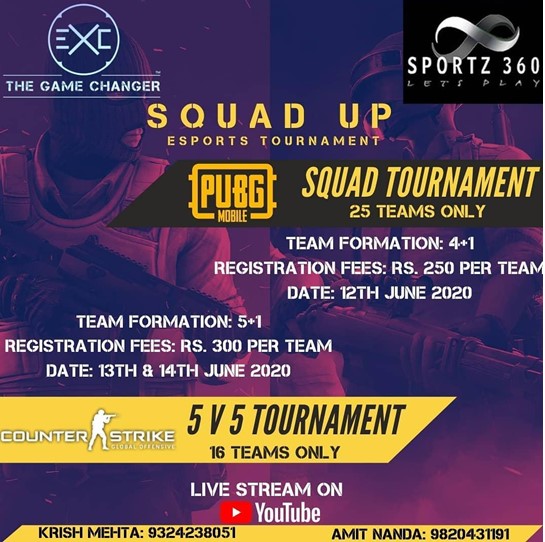 An editing or designing service such as PosterMyWall can help you in this regard and let you design such a poster in a matter of minutes. You can choose from hundreds of pre-made poster templates or test your creative abilities and create one from scratch.
A tournament organizer in India created such a poster offering up the necessary details. In doing so, the potential audience and participants would get all they need without any unnecessary fluff.
Livestreams And Teasers
YouTube and Twitch are the two best platforms for anything related to video games. Many famous gamers are also streamers who broadcast themselves playing their games for their audience. To promote your tournament, you can use your accounts on YouTube and Twitch and conduct livestreams and upload teasers leading up to the event.
For example, you can record competitor profiles and upload them on YouTube, livestream practice sessions, or upload teasers from gameplay montages and the like. PosterMyWall can help you again by allowing you to make an ad in the same vein. Simply upload the gameplay footage and mix and match it with the various graphics and effects offered on the site and you will have the ad you need. You can then put it up on YouTube, Twitch, and even other social media sites.
Mountain Dew created a short ad for their gaming tournament and uploaded it on their YouTube account. It features footage from the video games in which the competition is being held, some stock footage, and other clips to create a thrilling and engaging short video ad.
Influencer Marketing
Influencers can take your marketing strategy to the next level greatly enhancing your reach. You will have to pick the right type of influencers for the job as making the wrong choice can have the opposite effects.
It would be obvious to reach out to someone well-known in the gaming industry such as a famous gamer or streamer. They will endorse your tournament and will help bring their fanbase over to your event. However, they will only be known in the industry and may not be relevant to the average person. In comparison, reaching out to a well-known mainstream celebrity like an actor or musician will extend your reach to the average person as well.
Mountain Dew reached out to a well-known Indian actor Hritik Roshan and had him feature in one of their ads for their gaming tournament. The actor poses as a gamer himself and also provides a voice-over offering all the necessary details for the event. The endorsement allowed the brand to reach out to nearly 2.4 million people on YouTube alone.
Competitive gaming and esports have really taken off in the past few years in the industry with events bringing in audiences of tens of thousands. Passionate gamers cherish the opportunity to play their favorite games and to show off their skills. Your tournament will bring in these gamers and their audience if you develop a good marketing strategy and stick to it. Simply follow the advice listed above and consistently follow it and your event will be a success.