Your dining space may benefit from the addition of a stunning centerpiece, such as a circular dining table. However, decorating it might be a bit of a problem since you need to produce a unified and aesthetically attractive design while dealing with a circular form. This can be difficult because of the shape of the object. The following are some suggestions that might help you properly design a circular dining table:
#1. Pick a topic to focus on.
It is important to settle on a concept or color plan for your dining area before beginning the decorating process. This will assist guide your choices for decorating and ensuring that everything has a consistent appearance. The rustic, farmhouse, contemporary, and classic styles are some of the most common themes used for dining rooms.
#2. Make your choice between a tablecloth and a table runner.
Your circular dining table may benefit greatly from the addition of color and texture in the form of a tablecloth or table runner. Choose a tablecloth for your dining area that has a design motif and color palette that is consistent with the rest of the space. If you have a tablecloth with a pattern on it, you should keep the place settings and centerpieces that you use basic so as not to overload the eye.
#3. Placemats and napkins should be included.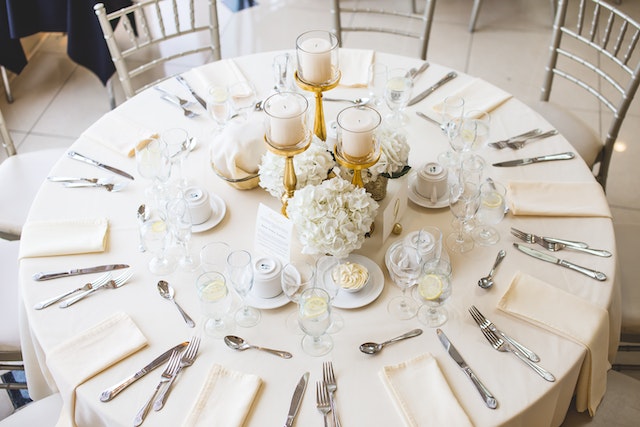 The addition of placemats and napkins to your dining table may provide an additional layer of texture and color. Choose placemats that either match the color of your tablecloth or provide a striking contrast to it for an extra dose of visual appeal. You have the option of selecting napkins in a color or pattern that coordinates with the rest of the table setting, or you may go with a color that is more understated, such as white or beige.
#4. Pick a focal point to highlight.
Because the centerpiece is the element that draws the most attention to your circular dining table, it is essential to choose something that is not only aesthetically pleasing but also practical. Here are some concepts to consider:
Flowers: If you want to add some color and scent to your dining area, consider getting a bouquet of fresh flowers. Pick flowers that go with the color palette you've chosen, and make sure the arrangement is low and spread out. This will prevent it from blocking anyone's view across the table.
Candles: A collection of candles in your dining area, all of which are of all sizes and heights, may provide an atmosphere that is both warm and inviting. Think about utilizing pillar candles, votive candles, or taper candles, and choose candle colors that suit the colors of your tablecloth or other decorative elements
Fruit bowl: A fruit bowl may provide a splash of color to your dining room table while also providing as a nutritious and delicious snack option for guests. Pick fruits that are currently available and arrange them in a bowl or basket that has a beautiful motif.
Sculpture or art piece: If you prefer a more minimalist design, a sculpture or art piece might make a statement on your dining table. Choose an item that harmonizes with the aesthetic of the rest of your home and make sure the dimensions are appropriate for the table you want to use it on.
#5. Put the dinnerware in its place.
It is important to arrange your tableware, flatware, and glasses in a manner that is not only practical but also appealing to the eye. Here are some tips:
At the beginning, put a charger or placemat at each individual setup.
Put the dinner plate in the exact middle of the charger or placemat you're using.
Place the bowl you use for soup or salad on top of the plate you eat supper from.
Place one piece of cutlery on each side of the plate, with the blade of the knife pointing toward the plate and the tines of the fork pointing upward.
The water glass should be positioned on top of the knife, and the wine glass should be positioned to the right of the water glass.
#6. Include the finishing touches.
After you have set the table with the dinnerware and the centerpiece, you will need to add some finishing touches to complete the appearance. Here are some concepts to consider:
In order to give the centerpiece some additional texture, scatter some petals or leaves around it.
In order to give a more personal touch, put name cards or place card holders at each setting of the table.
To compliment the overall look of your theme or the current season, include a few miniature pumpkins, pine cones, or seashells into your décor.
To summarize, when it comes to decorating a circular dining table, you need to give careful thought to the theme of your dining room, the color scheme, and the tableware. Choose a tablecloth or table runner that coordinates with the rest of your décor, add placemats and napkins for additional texture, and decide on a centerpiece that serves both a decorative and practical purpose. Place your dinnerware in a manner that is both practical and aesthetically pleasing.